Cleaning becomes even more important after corona than before. This is evident from studies conducted in various countries in response to the imminent return to the office.
Teleworking no longer compulsory
On Friday 18 February 2022, the relaxation of the corona measures takes effect in Belgium. One of the adjustments is that teleworking is no longer compulsory. However, it is still recommended.
This means that slowly but surely, more and more people who worked at home for months on end due to the COVID-19 pandemic, will return to the office. As an employer, it is important that you take the concerns of your staff into account. And those concerns often focus on the cleaning after corona.
90% of the respondents believe that cleaning staff play an essential role in ensuring their safety and health.
Employees consider cleaning after corona a top priority
Studies in several countries show that for many employees, returning to the office is not self-evident. Some findings from surveys by Mercer (in 13 countries) and Ipsos (in France):
More than half of the respondents consider a healthy working environment as a crucial working condition.
Hygiene was already important before the health crisis. Now it has become a necessity.
60% of respondents are concerned about the use of common or shared spaces within their work environment.
90% of the participants indicate that they have more confidence in an employer who takes care of the hygiene and disinfection of workplaces.
For 90% of the participants, cleaning staff play an essential role in ensuring their safety and health.
As a facility manager, you should take these clear figures into account when preparing for the big return to the office.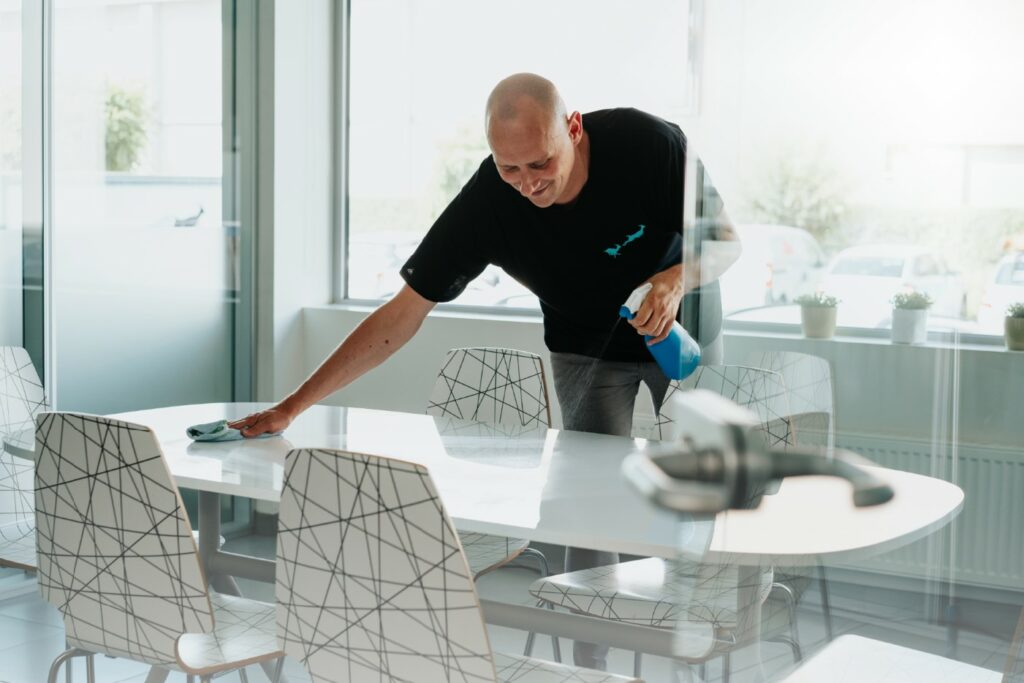 Choice of full-time office or hybrid work affects cleaning after corona
You can have your employees work full-time in the office again. Or you can opt for a hybrid model (combination of office and teleworking). This choice affects the approach to facility services, in particular cleaning. If the occupancy rate rises again, it might be useful to increase the cleaning frequency as well. Or extra attention should be paid to the contact points.
Companies that opt for the hybrid form may set up part of their offices as flexi-desks. A sensible choice, but then you have to pay sufficient attention to cleaning the ICT and office equipment. After all, after corona, employees are no longer so keen on using someone else's keyboard or telephone.
Don't hesitate to consult your facilities partner
Since research has shown that satisfied employees are no less than 13% more productive, it is best to prepare for their return to the office. A facility manager has to think of 1001 things in these circumstances. Is there enough hand gel available? What are the best places to install disinfection columns? How do we arrange the workstations according to the distance rules? Is there sufficient ventilation? How do we measure indoor air quality? Do we need to provide extra cleaning for the sanitary facilities after corona? And so it goes on and on.
Fortunately, you can count on your facilities partner. If the above list contains one or more questions to which you do not immediately know the answers, please contact us. We will be happy to advise and assist you.