"Always travelling in clean conditions, our mobility masters travel along with you to ensure your comfort."
Masters of their trade, with a difference
Market leader in Belgium
In 2014, Mobility Masters started to clean public transport vehicles. Through deliberate specialisation, we have become market leaders in this line of business. If you choose an alternative to your car in Belgium, you will be very likely to enjoy the expertise of our mobility masters.
Planning tool
Every day brings a new challenge in terms of logistics to deliver cleaned transport vehicles within a stringent timeframe. We have especially developed our own planning tools and apps, each designed for specific tasks, to efficiently plan and closely follow up our maintenance work
24/7 service
Our mobility masters adapt to the schedule according to which transport vehicles are made available for maintenance. Thus they contribute to a smooth service provision to millions of passengers using airplanes and public transport every year.
Waste charter
Environment-friendly products
Aircraft cleaning
Cleaning 40,000 planes a year in a timely fashion requires faultless coordination between numerous parties. Our planning tool comes into the picture here, enabling us to respond proactively to last-minute changes in the availability of planes for cleaning.
To train our masters we are glad to use
state-of-the-art virtual reality techniques.
Train cleaning
The quality delivered by our mobility masters is evidenced by the fact that they clean 1,250,000 trainsets a year. They use a quality tool to ensure that their work meets all requirements.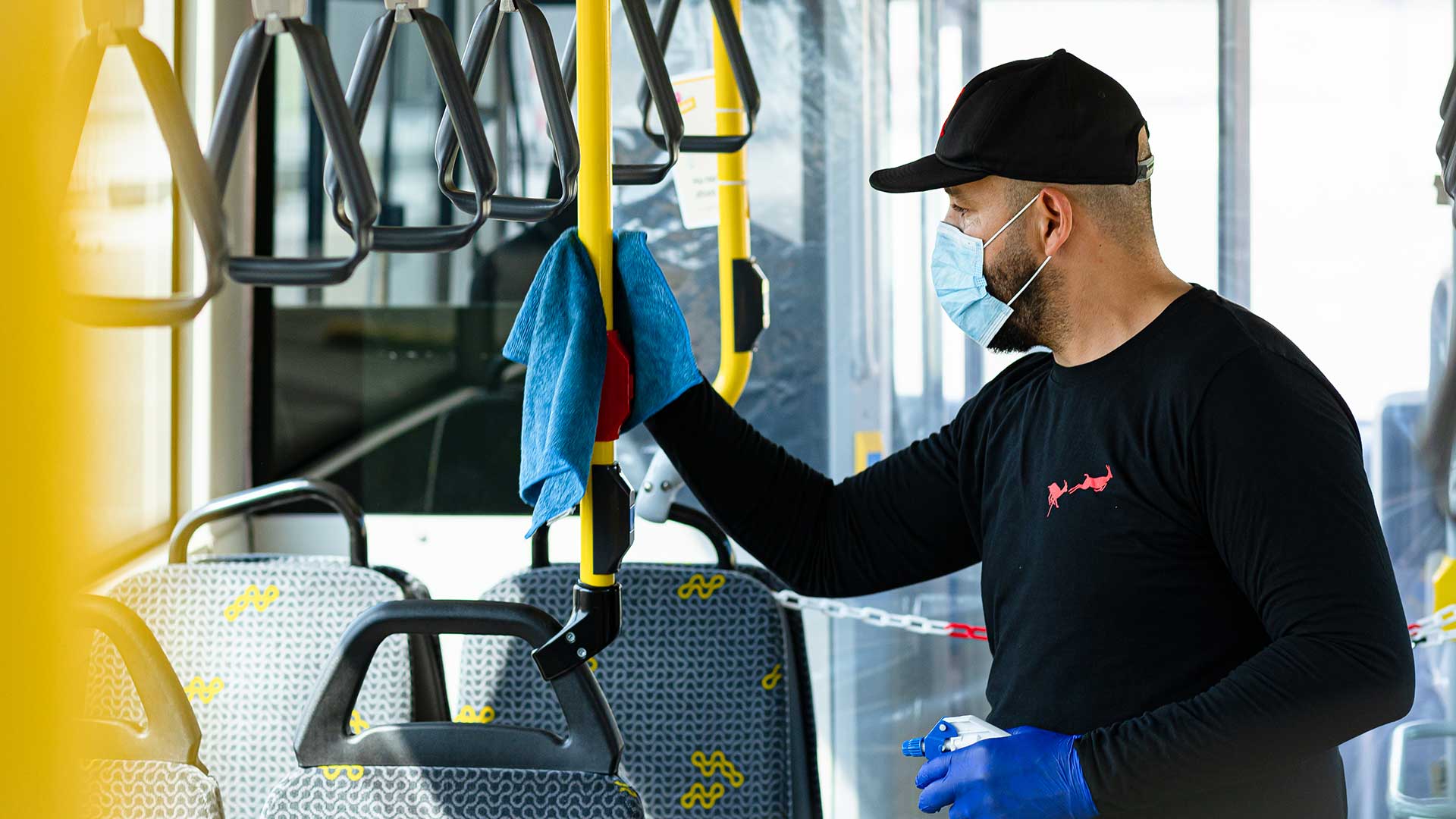 Tram and bus cleaning
With our integrated planning tool, our mobility masters succeed in having 10,000 cleaned and disinfected busses and trams start on time every year. The passengers can enjoy the ride, fully confident that they are in a hygienic environment.
Removing graffiti
Mobility Masters can always count on its mobile team of graffiti experts who remove, every year, a total of 150,000 sq. m of this paintwork, using environment-friendly products and methods.
Do you wish to get more information on our services?
We gladly send you additional information or develop a non-binding customised solution.
News about Mobility Masters
Jobs at Mobility Masters
No Vacancies found
You want to become a member of our masters family, but haven't found what you're looking for yet?
Our comprehensive offer of facility services
Discover the Multi Masters approach
Through the services of Mobility Masters, among others, the Multi Masters Group has developed into a 'total facility' provider. By combining our various services, we offer a customised solution taking all secondary cares off your shoulders. You can send us your questions, requests and wishes through our web application Multidesk or make them known in a personal conversation with our SPOC. Thus, we will enable you to focus fully on your own mission.