Gino Greco (Garage De Linde) full of praise about cooperation for window cleaning and green maintenance
"We can trust Multi Masters Group to do what is promises. That peace of mind is exactly what you're looking for in a service provider"
The Matheussen family founded Garage De Linde in 1962. Since then, the company has expanded considerably: from 10 to 30 employees and from a small garage to a large concession. But the family values have remained the same. The recipe for the good cooperation with Multi Masters Group?
More than a car dealer
Garage De Linde specialises in Fiat, Alfa Romeo, Lancia, Abarth and Jeep. But the company does more than just sell cars. Gino Greco, after-sales manager at the garage for 8 years, adds: "Thanks to our skilled technicians, we also offer all after-sales services, repairs and maintenance. Moreover, we specialise in mobile homes, which is unique for garages.".
Bigger company, bigger maintenance
Multi Masters Group is a regular customer at Garage De Linde for its commercial vehicles. In 2015 the garage moved to a brand new and much larger concession in Aartselaar. Naturally, the large windows and car park also demanded more maintenance. "When we were looking for a partner for the green maintenance and window cleaning of our showroom, we immediately thought of Multi Masters Group. We could go to them for both jobs. That's the big advantage of their wide range of services", explains Gino.
Good acquaintances
Garage De Linde did not hesitate for long to go with Green Masters for parking and green maintenance and with Cleaning Masters for window cleaning. "The employees of Multi Masters Group always came here with a smile. If the employees of a company have such a positive aura, you know immediately that the whole picture is perfect." The cooperation turned out to be a great success. "We were helped very professionally and quickly by Multi Masters Group. There were barely two days between the first agreement and the start-up."
"When the employees of a company show such a positive vibe, you know immediately that the whole picture is perfect."
Nowadays Green Masters visits Garage De Linde every 4 to 5 weeks to maintain the hedges and plantations on the premises. Every 12 weeks, Cleaning Masters waxes the large windows of the showroom. "This has been going on for 5 years now and – now I think about it – we've never had a complaint in all that time. We know that Green Masters and Cleaning Masters come by on time and deliver perfect work. We don't even have to keep an eye on the planning."
Family trust
Gino also mentions another success factor: the family spirit of both companies. According to him, these shared values form a solid basis for cooperation. "We are on the same wavelength and know each other's wishes. That way, things automatically run smoothly."
One of those shared values is respect for the customer. "At Garage De Linde, customers are more than a number plate. At Multi Masters Group we experience the same. We know all their employees by name, from masters to managers. That personal approach makes us feel appreciated."
"We don't even have to keep an eye on the schedule."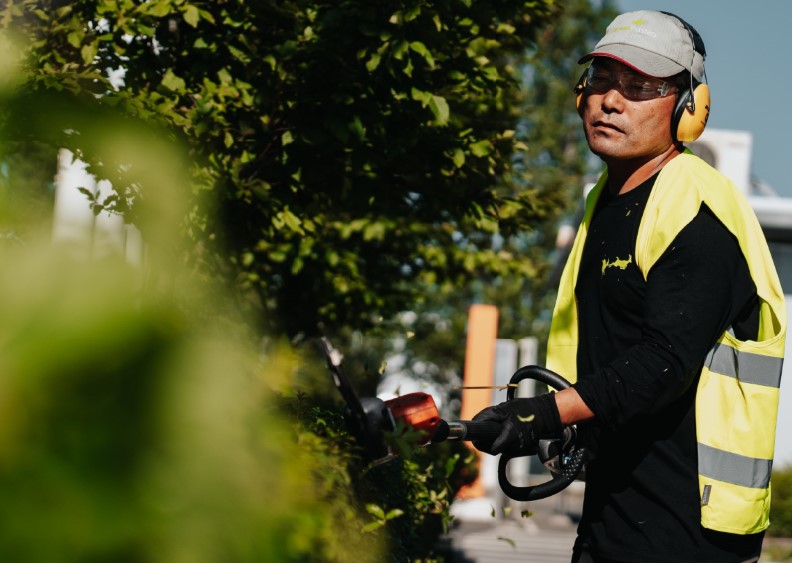 Both companies followed a similar path. Gino says: "I saw Garage De Linde grow from 10 to 30 employees in just a few years. Despite all the changes, our family values have never changed." It's the same with Multi Masters Group: a family business that, despite its expansion, has always remained true to its values.
One less worry
The collaboration between Garage De Linde and Multi Masters Group is one that will last for a long time. "We can trust that Multi Masters Group does what it promises. That peace of mind is exactly what you are looking for in a service provider", concludes Gino.
Garage De Linde in brief
Family business in Aartselaar, established in 1962
Specialising in Fiat, Alfa Romeo, Lancia, Abarth and Jeep
Cooperation with Cleaning Masters for window cleaning
Cooperation with Green Masters for parking and green maintenance